Discover more from Big Sky Chat House
Longform interviews with Montana's politicians, artists, advocates and changemakers.
Over 1,000 subscribers
Matthew Monforton's contentious, anti-Trump conservatism
The lawyer and former Republican lawmaker has lots to say about the state of the GOP, Rep. Matt Rosendale, his plan to cap property taxes and more.
Welcome to Big Sky Chat House— a newsletter about movers and shakers in Montana.
Enjoy reading Big Sky Chat House? We are a reader-supported publication, and none of the content lives behind a paywall. You can sign up to become a paid or free subscriber at the link below!
If you found this email in your Promotions folder, please move it to your Primary inbox. That will make it easier to find down the road, and teach Gmail to send it to other subscribers' Primary inboxes as well.
---
The Bozeman-based attorney and former Republican lawmaker Matthew Monforton occupies a singular position in Montana politics. Although Monforton maintains staunchly conservative views on a range of issues, and regularly uses Twitter to lambast "woke" culture, his acerbic and candid criticisms of the GOP have put him at stark odds with the party itself.
Monforton formally left the Republican Party following what he refers to as the "insurrection" at the US Capitol on January 6, 2021. His ire extends far beyond President Trump to include a widespread ideological "rot" within the GOP.
Two of his ongoing legal battles pit him against current state party officials. In one, he's suing the Montana Department of Transportation (DOT) on behalf of the Republican Public Service Commissioner Randy Pinocci. Monforton claims the DOT infringed on Pinocci's First Amendment rights by allegedly singling Pinocci out and forcing him to take down campaign signs from his last election while other candidates' signs remain up around the state. "The Department of Transportation personnel are trained to remove dead skunks and horse manure, not be Greg Gianforte's motorized brown shirts targeting my client's political signs," Monforton said earlier this year.
Monforton is also leading the charge to put a property tax cap on the 2024 ballot. The issue generated newfound momentum this past week as Montana homeowners began receiving reappraisal notices from the state, which will likely be followed by drastic hikes on their property taxes. (Monforton worked to put a similar measure, CI-121, on the 2022 ballot; it did not gather enough signatures to qualify.) MT Attorney General Austin Knudsen's office seeks to block the current initiative on technical grounds; earlier this month, Monforton filed a petition with the state Supreme Court, which will soon decide whether the initiative passes legal muster.
His other recent cases include a free speech lawsuit involving a Montana State University student accused of "hate speech," which he won, and a lawsuit in which he sought to excuse a realtor and pastor who made homophobic comments from taking disciplinary diversity training, which he lost.
Monforton and I recently caught up for a conversation about his property tax cap plan, his various beefs with the Republican Party and much more.
---
Max: When you're considering taking on a case, are there certain criteria it has to meet?
Matthew Monforton: First and foremost, it has to be a case that I think I can win. [I'm interested in] any kind of case where a citizen acting in good faith is having their rights trampled upon by the government.
Determining what qualifies as "acting in good faith" seems a bit sticky.
Sure. Your view of what might be a citizen acting in good faith and my view are probably not going to be the same. And quite honestly, I've had cases and clients where what I was told initially about the case, after some digging, becomes something very different.
I will avoid the temptation to ask for specifics.
(laughs) I can't give you specifics. But if you've done some research into me, you can probably take an educated guess as to which clients I'm referring to.
I'm pretty open-minded when it comes to First Amendment cases. There are certain types of plaintiffs whose cases I won't take: Folks who are on the alt-right. It's not that they don't have First Amendment rights, it's just that I don't have an obligation to be the one that defends them.
What does "alt-right" mean to you?
People that harbor views about white supremacy. I mean "white supremacy" as we've understood that term until the last few years, when it became applied to just about anybody who's either a Republican or a former Republican.
Pushing a property tax cap…again
What's the status of your property tax cap initiative?
It's a very similar initiative to [the failed constitutional Initiative] 121 from last year. The only real difference is that CI-121 applied only to residential property. This one applies to all real property.
What's your pitch for the tax cap?
We believe that the property taxes that all of us as homeowners pay should be based on the price of the property when we purchase it, not ten or twenty years later when it's tripled or quadrupled in value, because of all the out-of-state money that's been pouring in. That's unfair to homeowners, and especially to elderly homeowners who aren't able to keep up with those kind of gigantic increases in their property taxes other than to sell their homes. That's their only option.
The attorney's general's office says the current initiative should be disqualified on the grounds that it covers multiple subjects, right?
Yes. There's some kind of politics weighing in on this. It was not a good faith legal memorandum that the Attorney General's office issued. It was done by a political hack and it's laughable how ridiculous the legal arguments were.
I responded by filing a petition in the Montana Supreme Court, [because] when the Attorney General tries to keep a ballot issue from being circulated for signature gathering, you, as the ballot issue proponent, are allowed to go directly to the Montana Supreme Court; you don't even have to file in district court.
And the Montana Supreme Court has an obligation to fast-track the case. We're hoping to get a good result here in the next few weeks.
The state projected that if CI-121 had been enacted, Montana would have lost about $170 million in the first year. How do you justify that loss?
Well, the state has a $2 billion surplus. They're clearly overtaxing property owners. And property owners shouldn't be the ones that the government in Montana and local governments go to constantly when they want more money.
The state of the GOP, and Rep. Rosendale
You describe yourself on Twitter as "ex-GOP." What does that encompass for you?
For me, it started with a public declaration that I am no longer a Republican.
I thought that after November 2020, there was finally going to be sanity returning to the Montana Republican Party and the Republican Party throughout the country, and things would get back on track. We'd get behind someone like Tom Cotton or Tim Scott.
But that's not what happened. Exactly the opposite happened. Large swaths of the GOP have lost their ability to engage in rational thinking.
What's something from the 2023 Montana Legislature that you were happy about, or something that you weren't pleased about?
I'll focus on what I think was by far the biggest disappointment with the legislature's performance this session, and one that will reverberate for the next few years: The most important piece of legislation that needed to get through was a bill that would've changed judicial elections in Montana so that people would know, or people could be told, the party affiliation of judicial candidates.
Nobody knows who these judicial candidates are. So what happens in every election is that I—and most other attorneys in this state can probably vouch for this, too—get phone calls from friends, relatives, neighbors, saying, "Hey, do you know Joe Smith? What can you tell me about him?" Especially for the district court elections, no one knows who these people are.
And so what ends up happening is that the trial lawyers and the environmentalists and the teachers unions are all able to get together and get their folks elected. And they're almost always far to the left because the people don't know who they are. If the people are allowed to see an "R" or a "D," that at least gives them some insight into the political views of judicial candidates. That's not allowed to happen under our system, because that would guarantee that a lot of these left-wing woke judges that we have in the state would be voted out.
That's something that should have changed. That's something that could have changed. Governor Gianforte understood, or at least claimed to have understood, the importance of that. He told me that in 2020 when I was at a campaign lunch at his house, and he's told other people that, too.
But he didn't make the calls. He didn't make the effort that needed to be made to get that bill onto his desk. And it was an absolute betrayal of conservatism in Montana because for all the great conservative bills that, in my opinion, that got through the legislature, many of them are gonna get shot down by our left-wing judiciary because they have absolutely no fear of electoral consequences for it.
Montana is very much a red state, and if judicial candidates are known by their party affiliation, that gives a significant advantage to candidates who are running on the right. That information is denied to us as voters. And so that gives special interest groups a huge leg up in being able to frame the elections in favor of left-wing candidates who, if their views were known, would never stand a chance in most of these elections.
You spoke critically about the alt-right at the beginning of our conversation. Do you consider Representative—and likely Senate candidate—Matt Rosendale to be alt-right?
I've never considered Matt Rosendale to be alt-right. I see on Twitter and I know you've seen it too, that photograph of him ten years ago, standing in front of an Oath Keepers rally in Kalispell.
He's taken a lot of shit for that. I think, in fairness, that the Oath Keepers ten years ago advertised themselves as something different than what they are today. So I'm inclined to give him a pass on that.
How were they different?
Well, at least their statements back then were to the effect of this is an organization consisting of former military police officers, former police officers, we have all taken an oath that we will uphold the Constitution and disregard any orders we're given that violate the Constitution.
As we've seen with their leader just getting sentenced to 18 years in prison a few weeks ago, the Oath Keepers have morphed into something almost the polar opposite of what they claimed to be ten years ago.
That seems to be Exhibit A for people that want to say Matt Rosendale is a member of the alt-right and he's an extremist and he's in league with terrorists, that kind of crap.
If that's all the evidence they have, I'm not impressed.
I think the photo he took with a group of neo-Nazis in March (which Rosendale says he did unknowingly) may now rank as Exhibit A for some people.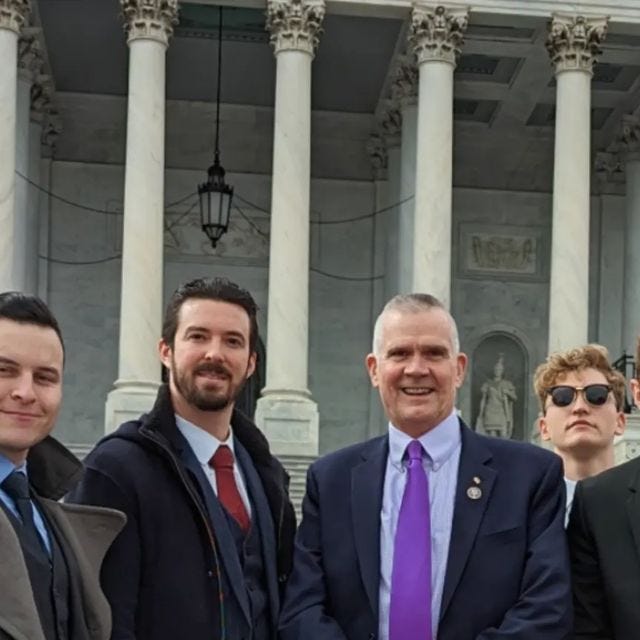 Greyson on Instagram: "Just ran into Congressman
@mattformontana
, a real America First representative with backbone."
I don't want to come across as an apologist for Rosendale. I've got my own criticisms of him. [But a] congressman gets photographed with dozens, sometimes hundreds of people a day. They can't always know who it is they're standing in a photograph with.
If he knew these guys were neo-Nazis and chose to be photographed with them anyway, then that's a whole different story.
I will say that I've been very disappointed in the way he is been one of the top Trump cultists in the party. And his treatment of Liz Cheney—her courageous acts and standing up to Trump—was disgraceful.
Before we wrap up, is there anything that you think would be enough for you to return to the GOP?
Not in the foreseeable future. The problem is not just Trump. The problem is the rot throughout the party, including much of the grassroots of the party. I remember last year I went to a couple of Republican functions, even though I'm now a self-declared ex-GOP member, to help promote CI-121. I figured those would be sympathetic places to make my case.
[Former state lawmaker] Dr. Al Olszewski was also working with us, to make the pitch for CI-121.
He's a really good salesman and did a fantastic job going over the high points of CI-121. As soon as he opened it up to Q&A's, the first several questions had nothing to do with CI-121. They had to do with the January 6th political prisoners and stealing the election in 2020: "Dr. Al, and what are you gonna do to help get the political prisoners released?"
I thought, wow. Taxes are skyrocketing on average Montanans, and this is what you clowns are obsessed with? That hasn't changed. If anything, it's gotten worse. As long as these people are living in what amounts to Jonestown and are drinking the Kool-Aid, I have no intention of ever returning to the GOP.
This conversation has been edited for length and clarity.
---
One more thing…
I really enjoyed chatting with Sam Kaley and Dave Jones, the organizers of the fully DIY Missoula punk festival Microfest, for Montana Free Press. We talk about the city's fabled DIY history, why they held the event at a skatepark and much more.
---
Thanks so much for being here. In the meantime, you can always reach me via email, the comment section below, or on the Elon Machine, @SavageLevenson.
Big Sky Chat House is a reader-supported publication. Consider becoming a free or paid subscriber today.