Discover more from Big Sky Chat House
Longform interviews with Montana's politicians, artists, advocates and changemakers.
Over 1,000 subscribers
Monica Tranel trashes US Rep. Zinke, pitches her re-match campaign and gets heady on renewable energy
Plus: Sticking a toe back into the waters of cannabis reviews.
Welcome to Big Sky Chat House— a newsletter of candid conversations with movers and shakers in Montana.
If you found this email in your Promotions folder, please move it to your Primary inbox. That will make it easier to find down the road, and teach Gmail to send it to other subscribers' Primary inboxes as well.
Big Sky Chat House is a reader-supported publication. To receive new posts and support my work, consider becoming a free or paid subscriber.
---
Last November, the environmental lawyer Monica Tranel ran a heated but ultimately unsuccessful campaign for Montana's Western District congressional seat against Ryan Zinke.
But Tranel isn't ready to call it quits.
In July, she became the first Democrat to throw their hat in the ring for the 2024 race, which will likely pit a Democratic challenger against the incumbent Rep. Zinke.
In addition to her legal work, Tranel previously ran twice, unsuccessfully, for the state Public Service Commission. She also served briefly as legislative counsel to Montana's former Republican Senator Conrad Burns in 2005.
I recently caught up with Tranel in Missoula to learn more about why she thinks the landscape of this race is significantly different than 2022, her passion for renewable energy, her beefs with Zinke and how the Democratic Party can mend fences with frustrated progressives in Montana.
---
Max: How have you been spending your time prior to launching this campaign?
Monica Tranel: Over the course of the last winter and the spring, I had a lot of work to do. I had a jury trial in Malta, Montana, over a water rights issue. I had a full hearing [with] the utility commission, the PSC, on NorthWestern [Energy]'s request for a $170 million rate hike.
And then in March, I lost my closest friend, an Olympic teammate, to cancer, and I spent a week with her before she died.
The most exciting news is that our family is a new proud owner of a raft. So we have been spending some time on the rivers this incredible summer. It's super fun, [and I'm a rower], but I will admit that the rowing technique on the rivers is a little different.
When did you decide to enter the 2024 Congressional race?
[In the 2022 race], it was so close. It was a total difference of about 7,500 votes. It just felt like we ran out of time. We had so much momentum. We were up against a better funded, better known incumbent, essentially. I mean, it was an open seat, but Ryan Zinke had held the seat and he was Interior Secretary, so had a lot of name recognition.
It felt unfinished. There was always this idea of, well, that was round one, and I'm always better in round two, so let's not walk away from this.
You mentioned feeling like you were gaining momentum at the end of the race. I don't mean to sound trite, but was that just a feeling, or were you seeing data to that effect?
Cook Report upgraded the race to "leaning R" instead of "likely R" [on October 19, 2022]. There had been some third-party polls that showed that it was a one-point race; in the end it was a three-point race.
We did better than any other race in the country in a Trump +4 or more district.
The other piece of it is that we had a competitive primary. So we came out of the primary really with no money. And so we were heading into a general election on a fairly short horizon against a well-funded, well-known opponent and with no resources. And so what we built over the course of four months was really incredible.
Going into round two, what do you anticipate being the same, and what do you anticipate being different, in terms of your campaign?
[As for] the extrinsic things, the things that we can't change: it's a different year. It's a different cycle. It's a presidential year, 2024. So there will be a lot of enthusiasm. There will be a lot of people coming to vote that don't vote in an off-cycle race, and so there will be more people voting, period.
And then on the intrinsic side: the first time I had to introduce myself to the voters, right? So nobody knew me from anyone. Now I rarely go somewhere where people don't recognize me. I got to 75-80% name recognition ID.
[The campaign is] starting from a very, very different place. It gives me the opportunity to tell my positive story of what I've done for Montana. I've worked in Montana my entire career. I've kept $10 million in Montanans' pockets. I've always been on the side of the working people standing up against corporate consolidation, standing up against the out-of-state interests who've come here and tried to close off our lands and keep us from having the things that we love and cherish as Montanans.
---
---
Can you explain the money that you worked to keep in Montana?
Sure. So when I say I've kept $10 million in Montana, that is attributable to two separate cases that I handled on behalf of the consumers, the Montana rate payers.
What's important [to know] is that we pay for the gas and coal plants, whether they generate power or not. We pay for them plus a profit. And then we also have to pay in addition to that, to have power, so we can turn our lights on.
So one [case] was the Dave Gates generating station in Mill Creek; it's NorthWestern's gas plant. [In 2012] the gas plant went down a year after it was built. It was brand new. NorthWestern was seeking a little less than $2 million in replacement power costs.
The other one is Colstrip. There was an outage [in 2013] and the replacement power was about $8 million to replace the power that Colstrip was not generating.
One of the arguments that you will hear over and over for Colstrip and for gas plants is reliability. Guess what? They're not reliable a hundred percent of the time. Nothing is.
So I argued that Northwestern, just to summarize, should have known that those plants were going to go down and should have planned for it. And that the replacement power costs were on them for failure to prudently manage their portfolio.
I was successful in those arguments. And so we didn't have to pay that money that NorthWestern wanted us to pay.
I'd be curious to get your take on the Held v. Montana ruling.
I think it's a great outcome and really necessary to have Montana move in the right direction and use the resources that are sustainable, reliable, and affordable. Let's use the cheapest power, which is wind and solar and hydro.
We passed the Rural Electrification Act in 1936. We electrified everything. We did it because that was what we decided we would do. In America, if we decide we will [use] clean energy, we'll do it. It's just a matter of will. The electricity's there, the generation resources are there, the grid is the answer.
Is the bulk of that grid in place already? Is there a lot of work that needs to be done on that front?
I do think we need permitting reform so that we can build more transmission to solve for transmitting electrons from renewable resources to the places where they're needed at the time when they're needed. But a lot of that exists and can be used better so we can harden the grid by making it more reliable.
So right now, for example, we don't have accurate real-time data in certain places about whether or not the grid is at risk of being shut down for fire. Nobody wants what happened in Hawaii to happen. But how do you solve for that?
I think that there are a lot of things in play right now that can be assisted and facilitated. So one example is that is the Grid United project. That is the proposal for a transmission line from Colstrip to Minneapolis.
Is there a low hanging example of something Congress can do to facilitate the strengthening of the grid and a move towards renewable energy?
I do think that the Inflation Reduction Act combined with the Infrastructure Act has done really tremendous amounts of work to get us started down the right path. Sitting here today, we've seen private investment initiate a lot of the effort that has to happen to trigger the public funds that are going to be released under those those acts. So some of the legwork has been done.
One example of that are the direct pay options [via tax credits] that are available under the Inflation Reduction Act.
[As for] a silver bullet, there's probably not a single option. It's more like birdshot; it's not a rifle shot, it's a scatter shot.
I think the other piece is to identify where are these resources going to make a difference across Western Montana. How are they going to actually bring money into Montana and help our communities across this district.
What would be an example of that?
There's lots of different ways that that can look. So in Beaverhead County, they built a solar project that [provided] another $500 million of assets to the county. It increases the tax base. That's real money for rural counties. Another way of doing it is [incentivizing rooftop solar].
The grid then becomes this bi-directional investment option. It has proven to work during times of high heat incidences, like in California. And solar over-performed in Texas this summer.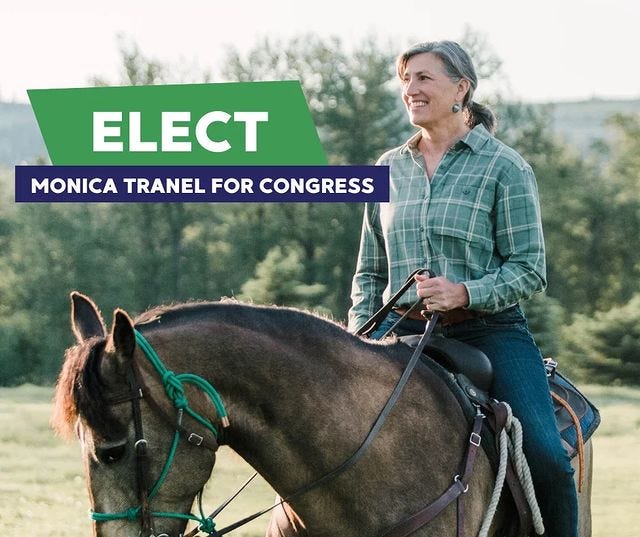 What's an example of something Congressman Zinke has done this term that you were pleasantly surprised by, and then something you found disappointing or disconcerting?
I was disconcerted, but not surprised by [Rep. Zinke] holding the government hostage in his votes on H.R.1, and the GOP debt ceiling bill. He voted against healthcare for our vets. He voted against our working families. He voted against funding for law enforcement. That's unfortunate and that hurts Western Montana.
The other thing that I would say is what he's said about Flathead Lake being low. Flathead Lake is below its typical high pool. But his messaging on that has really been divisive, unnecessary, and ignorant.
He has asked that Hungry Horse Reservoir be drained into Flathead to fill it, which is the same as taking your bathroom sink and filling it with water and taking that water with a thimble and putting it in your bathtub to fill up your bathtub. It's silly. It doesn't make any sense, and it doesn't address the underlying problem.
Then the racism that has just been rampant: blaming the tribes and the management, the Energy Keepers, of how they've managed the outflow from Flathead Lake through the Seli'š Ksanka Qlispe' hydroelectric facility. That is totally regulated and controlled by FERC [the Federal Energy Regulatory Commission].
When they blame the Indians, that is just outright racism, and that is totally wrong, and it doesn't address the underlying issue, which is a changing climate that we have to deal with. That's just pandering to the corporate profits that have funded his campaign.
And on the other side of the coin, what's something Zinke has done that you've either supported or been pleasantly surprised by?
I support the fact that he has spent his summer in Santa Barbara on vacation, and I want him to stay there permanently and get out of Montana.
Roger that.
And I'll help him.
Before we wrap up: it seems like there's a pretty stark divide right now between young progressive folks in Montana and folks that I consider a little more centrist. I'm curious if you're also seeing that divide, and if so, what's the most constructive way to bring folks together?
Well, with three daughters, two of whom are teenagers and one's in college, and would probably identify with that progressive group that you're talking about, I think that it's important for us to understand that our vision of the world as Democrats is very, very different than the Republican vision of the world. The Republicans have funded special interests. They want trickle down economics that don't work. They want the rich people to keep getting richer. They want to put money into corporations. The Republicans want to regulate our bedroom, they want to regulate our religion, they want to ban books that we can read.
We don't want that as Democrats. And I think we need to coalesce around what our vision of the world is, that people have the ability to choose the kind of life they want to lead, that they have the freedom, the economic stability and security, to choose how they want to live their lives. Those are really important private decisions that I think we all want to be able to make.
So, to clarify: do you feel that regardless of how progressive folks are within the Democratic Party, that this sentiment is something shared between them?
Yeah. I think it's really important to look behind lip service and measure people by their actions. I think a good example of that is President Harry Truman. He integrated the military. That was a big step forward. He was very, very for equal rights. And yet he took a lot of heat for being this whiskey drinking good old boy from Missouri. So, I think it's important to look at what people are actually doing, and the Democratic Party is actually doing the things that need to get done to make constructive progress, to protect our freedom and our privacy.
This conversation has been edited for length and clarity.
---
One more thing…
I haven't been writing much about cannabis recently, but I really enjoyed taking this excellent Neverland strain from Funk Farm for a spin on a camping trip and writing it about it for the good folks at Leafly.
---
Thanks so much for being here. In the meantime, you can always reach me via email, the comment section below, or on the Elon Machine, @SavageLevenson.