Discover more from Big Sky Chat House
Longform interviews with Montana's politicians, artists, advocates and changemakers.
Over 1,000 subscribers
Rep. Zooey Zephyr's bigger fight
Plus: Stephanie Land discusses her new memoir "Class"
Welcome to Big Sky Chat House— a newsletter of candid conversations with movers and shakers in Montana.
If you found this email in your Promotions folder, please move it to your Primary inbox. That will make it easier to find down the road, and teach Gmail to send it to other subscribers' Primary inboxes as well.
Big Sky Chat House is a reader-supported publication. To receive new posts and support my work, consider becoming a free or paid subscriber.
Just over six months ago, on April 18, the first-term Democratic state representative Zooey Zephyr rose on the House floor in Helena to speak in opposition to Senate Bill 99, a bill banning gender-affirming medical and surgical care for minors in Montana that was later signed into law by Governor Greg Gianforte.
In an exasperated, angry tone, Zephyr, a trans woman, addressed her Republican colleagues directly. "I hope the next time there's an invocation, when you bow your heads in prayer, you see the blood on your hands," she said, alluding to both the documented spike in suicide attempts among trans teens linked to similar bills elsewhere in the country, and, inversely, research indicating that access to this care reduces suicide and depression rates for transgender youths.
Zephyr's single, fiery comment sparked an all-consuming series of events that plunged the legislature into turmoil, amplified the toxic and bitter tone of the session and drew the nation's eye to Montana.
After she declined to apologize, the Republican Speaker of the House, Matt Regier, barred Zephyr from speaking on the House floor. In response, on April 24, a group of protestors assembled in the House gallery, and called loudly for her to be able to speak.
During the protest, Zephyr silently raised her microphone over her head, an act criticized—sometimes, arguably, in good faith—for exacerbating the situation. Montana Highway Patrol officers arrested seven individuals on misdemeanor charges during the protest; Lewis and Clark County prosecutors dropped all of the charges in August.
Two days later, the House voted on party lines to bar Rep. Zephyr from entering the House for the remainder of the legislative session.
They permitted her to vote remotely, however, and she subsequently worked on a bench adjacent to the chamber, until a group of older women, including the Speaker's mother, Jolene Regier, sat there in an evident effort to hamper Zephyr's work. In a viral photo, Mrs. Regier and her friends appear gleeful.
Yet when the session ended, on May 2, it was clear that the GOP's actions had had an unintended effect: Representative Zooey Zephyr had become a national star.
In the subsequent months, Zephyr has been busy. As one of the most prominent voices on trans rights in the country, she speaks regularly at conferences, appears at Pride events and advocates both for and against various bills. Her Instagram account features photos of her with national political figures, from US Rep. Alexandria Ocasio-Cortez to the once-expelled Tennessee state representative Justin Jones. In September, Time Magazine included her in its "Time100 Next" list.
Zephyr has also begun to flex her own public platform in an effort to shift the political landscape in Montana. She recently launched a political action committee, focused on supporting progressive Democrats in the state; she has taken to social media to weigh in on hot button topics like the Israeli-Palestinian conflict; she has also decided to run again in 2024 for the state House.
A couple of weeks ago, Zephyr and I met up at a coffee shop in Missoula for a nearly three-hour conversation. In between brief, kind interruptions from well-wishers, we touched on an array of topics including her frustration with Republican lawmakers who allegedly supported her behind the scenes but still voted in favor of anti-LGBTQ legislation, some of the goals of her PAC, her decision to run for another term in the state House and much more.
Note: This interview contains references to suicide.
---
Max: What's your day-to-day like right now?
Representative Zooey Zephyr: Busy. Interim committee work. There's MDLCC [Montana Democratic Legislative Campaign Committee] work. There's conversations with constituents. There's talking with folks across the country about potential legislation for 2025. Even though we're a citizen legislature, you're always doing some work in preparation for either the interim or the next session to come.
There's work with the PAC that I'm looking to start, and figuring out the best way to recruit and support candidates across the state.
On top of that, I am also going to various events. I was in Massachusetts to speak at Harvard and Hampshire College. In that work, I'm trying to do two things: one is to make sure that when you have a year like 2023—when over 500 pieces of legislation targeting the LGBTQ community, broadly targeting the trans community [were introduced]—I want to make sure folks see the fight, in a moment where you could incline towards despair. I want them to see that there's hope and that people are fighting, and that there is a path towards one day these bills going into the dustbin of history.
The second thing is, again, talking to people doing the work on the ground, making sure that they feel like they have the tools to succeed.
Whether it is my censure in Montana, whether it is Rep. Mauree Turner's censure in Oklahoma, the expulsion of members in Tennessee, whether it is the Nebraska delegation—Machaela Cavanaugh, Megan Hunt, John Fredrickson—it's important that folks don't feel like those were isolated attacks, or isolated resistance.
Nebraska's a clear indicator of that, where the Republicans were only able to get their anti-trans bill across the line by amending it to pair it with an anti-abortion measure.
And then on top of all of that, I'm also a new, soon-to-be stepmom; I'm engaged, not married yet. I don't know what you call that; I was the representative-elect…I'm a stepmom-elect (laughs). And so when I can, [if I am] speaking in DC or Massachusetts, I go visit my fiancé, who lives in Maryland, and I say hi to her and the kiddo.
Going back to your comment about connecting various fights together under the same umbrella, I feel like there could be more consensus on some of those issues than others, and that pitching it as an umbrella could make some people skeptical.
That's fair. Let's look at conversations about gun rights: [Tennessee] Representative Justin Jones and myself would likely have different views on that. When you talk about the policy being pushed, it's also important to ask what [Republican lawmakers] are willing to throw away to achieve policy goals.
If you look at bills passed in the 2021 [Montana] Legislature, there were anti-abortion measures, anti-LGBTQ measures, et cetera, et cetera. Those pieces of legislation get struck down by the courts, but the Republicans came back [in 2023] with a supermajority. And their response was not to say, "Wow, we crafted unconstitutional policy. Maybe we should drop that." The idea was to try to consolidate power. They saw thankfully push back from members of their own party. Representative Wayne Rusk stood up on every bill and said, "What are we doing? This is foundational to our democracy and we are coming after it."
Likewise, when I stood up and said, "Hey, the bills you are passing are gonna get people killed, there's blood on your hands if you do this," the notion there was not to say, "It's fine, whatever; we're gonna get our our bill through anyway because we have a supermajority." The goal became to silence dissent, to silence representation.
Likewise, we saw that in Tennessee, when an elected official stood up and said, "This [firearms policy] hurts my community. This is dangerous, this is bad." If a supermajority can say, get outta here, we are looking at actions that unravel the foundations of democracy.
I would love to be proven wrong here, but I think a lot of voters have been willing to overlook these sorts of attacks; current polling, for instance, points to a general shrug in response to Donald Trump's election denial campaign.
There's two different things being talked about there. One is national politics versus local politics. And then it's also important to recognize that at some level, you are not trying to sway a voter that thinks the election in 2020 was stolen.
You are trying to plant seeds. There is a big a swath of voters who recognize that it's a hard sell for a [Montana] Republican to come out and say, "Hey, I know the last legislature didn't go super great, and it was definitely those Democrats," when you have the governorship, you have every statewide office and you have a supermajority.
I've had QAnon [believers] come up and talk to me, upset about what Republicans did in the legislature. I believe the phrase they used was, "I disagree with basically everything you've said, but [the GOP] did the one thing they're not supposed to do: tell you to shut up."
You cannot control whether people are cruel to you. But what happened in Montana, I think, revealed the cruelty in a lot of ways.
---
---
When it comes to the work you're doing combatting anti-LGBTQ legislation, do you see merit in making a distinction between opponents who appear to be acting in good faith, versus bad faith?
There were people [in the legislature] who were all in on anti-LGBTQ policy, who believed the harmful, heinous rhetoric of groomers and pedophiles.
And then there were two types of Republicans in the moderate camp. The first of which would say, "I don't like these bills, but if I vote against them I'm gonna get primaried and it's gonna be a Freedom Caucus member in here."
I said, "If you take the same votes that they're gonna take on the bills that get my community killed, it's no different to me."
I remember sitting down with one of the legislators, and he said, "I have to pretend to be this far-right person sometimes, until that faction falls by the wayside and we can go back to just being conservatives." And I said, "At what point do you become the monster you're pretending to be?" We talked throughout the session. He would take terrible votes on bills that I knew he didn't believe in. And I would say, "How's the mirror?" He'd throw his hands up.
And then there were others who said, "I have to vote for this, but I'm gonna spend my energy fighting against the bills undercutting the judiciary, and I'm gonna trust that these bills, even though I don't agree with them, will get taken out in court. I have to believe that, so that I don't expose myself to a primary."
The hard part there is that justice in the courts moves slowly. We have an injunction on Senate Bill 99 now, the preliminary injunction. But that will be looming for, I'm guessing, eighteen months, depending on how quickly it moves.
Justice often moves slow. The pain comes quick. Pain comes quick for families calling me saying, "Is now the time to run? Or is the state still worth fighting for?" And my answer is that you have to make that decision for yourself. But I believe that the state's worth fighting for, and I believe that we're going to win these in the courts.
We had a letter from one of the ER doctors saying a trans teen came in suicidal. And when they asked what was going on, the teen just kept saying, "My state doesn't want me." We had a trans teenage girl, 14, who attempted suicide while watching the anti-drag hearing.
How do you listen to someone who says, "Don't worry, the courts will take care of this," when you see the harm done the moment the bills are brought?
I believe Republicans are gonna get their comeuppance on the ballot like they did nationally in 2022 with the rainbow wave, specifically swing seats like Nevada's governorship, Wisconsin's Supreme Court, Arizona's governorship, Georgia's Senate race; big national tossups where people made anti-LGBTQ rhetoric their diehard position.
If there's not enough far-right folks in the legislature, the bills stop coming. But until that point, until you are breaking with your party, the distinction [between good and bad faith opposition] is hard to see.
It almost sounds like some of those Republican lawmakers came to you seeking absolution.
100%. After every vote targeting the LGBTQ community, various members of the Republican Party would come up to me and say "I'm really sorry that I voted that way." And I'd say, "Not today, not now. Don't tell me you're sorry."
It's not hard to do the right thing.
I remember a member of the Freedom Caucus came up to me after one of the bills and tapped my shoulder in the hallway and said, "You're really moving the needle on this stuff, girl." They would later sign the letter misgendering me.
If I'm moving the needle, vote like it.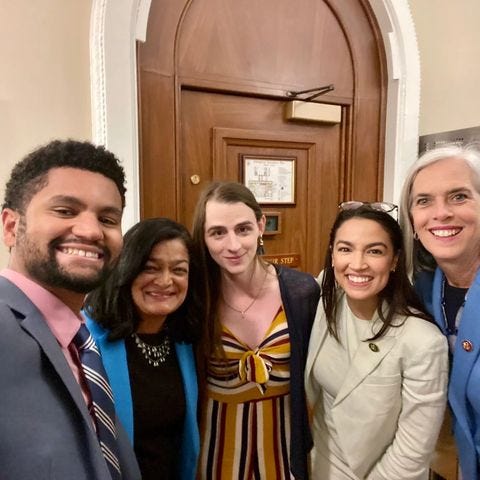 Are you down to talk about your political action committee?
A little bit. It's being established right now. The goal would be to support Democrats, particularly progressive Democrats; finding people who are not going to be afraid to stand up when the moment's hard, who are going to lead with sincerity, who are going to fight for marginalized people, fight for democracy, who are unafraid to say, "Yeah, I'm a Dem in Libby, Montana, and that's not an accident."
I believe that it's connected to the kind of state I want to see. I believe it's connected to a compassionate, kinder Montana.
What's your take on what happened to former lawmaker Barb Bassette this year (when she dropped out of her 2023 race, effectively claiming that the Democratic Party pushed her out of the primary)?
I really like Barb. I think there is this notion within the Democratic Party of Montana that the path to returning to a Democratic majority or winning back union workers—who used to vote strongly Democrat and now don't as much—is to run candidates in the imagined middle. To me, there's a difference between finding common ground and finding an imagined middle between acceptance and eradication.
And as we've seen far-right policy continue to take root in the party's platform, there are Democrats who think, "To win an independent voter, we need to not touch these social issues." And then there are folks who say, "No, we run people who genuinely believe in the things that they believe in."
When it comes to the elections themselves, we are seeing a tendency within the Republican Party to embrace variance. The far-right is not going, "You know what? There's an incumbent in this seat. I don't really want to rattle the caucus." They're saying, "I'm gonna show up and I'm gonna fight for this platform."
On the flip side, in the Democratic Party, we're often seeing a nervousness to say, "Let's primary an incumbent who we don't think did a good job." There's this nervousness that you will dilute the energy of the Party. But to me, if you are not supporting the people who are coming in and saying, "I believe all of my heart that I'm the right fit for this, and you're telling them to maybe wait six years, until so-and-so is out of the seat," you are losing the ability to make a better Democratic Party.
I don't know if that was what happened, but I know that's Barb's sense. The Democratic Party that I want to see is not one that would do that. And that's the kind of Democratic Party that I'm gonna fight for.
If you think the best room for you to be in is the legislature, I want to help you to figure out how to navigate the sort of black box of campaigning.
Do you have a rough sense of how many candidates you want to work with?
There's the candidates who I might work with on the ground. But more broadly, [I'm considering] how do I leverage a national voice to go to people and say, "Hey, you're in New York. Here are 40 candidates in the Montana legislature are running for the Montana House."
I'm not saying donate to my PAC. I'm saying these are people who you should consider supporting. These are bad asses fighting. That's part of the work as well.
Approaching that situation as a nationally recognized figure, in a place like Montana, where the notion of "outside money" looms large, seems like it might require a little balancing?
It's like the conversation about where traffic is the worst. I think every state believes they're the ones that really hate outside money.
To me, those conversations feel, maybe feel good to say, but if someone in New York says, "You know what? I'm also a GP, and there is a guy running against Llew Jones in Northern Montana who's a doctor, you know what, I'm gonna max out to that guy. I'm gonna throw out $400." Hell yeah. You trust people are doing it from a place of genuine care.
Switching gears: what does effective progressive messaging look like to you in the Israeli-Palestinian conflict?
There is nothing you're going to say that will make everyone content. There's some people who truly believe that the Gaza Strip should be a parking lot, that 2 million Gazan lives are acceptable collateral damage if it means the end of Hamas.
And then there's also groups in America, like the white nationalists who came to Missoula, who are all too eager to co-opt what is happening in Israel-Palestine to further both antisemitism and Islamophobia.
First and foremost, you have to be able to separate the actions of the government from the lives of the people. It is not antisemitic to call Netanyahu a far-right figure. It is no antisemitic to say Israel has been callous in their disregard for civilian life in Gaza. If you cannot make the distinction between a government and a people, the conversation can't go forward.
And that is also true when it comes to Palestine. We have to be able to say the actions of Hamas are not the actions of Palestinians.
And for me, it is so important to lead with what's right, which is the sanctity of life. You do not target civilian life. You do not do that. It needs to be condemned.
At the same time, you look at the lives lost in Israel and Palestine over the last decade, and it's an order of magnitude more Palestinians. We are watching that come to fruition now, again, with over 3,000 children dead in Palestine. How can you say that anything but a ceasefire is worth calling for? [Note: As of this writing, according to the Washington Post, 4,600 children have been killed in Gaza].
We're now in a situation where the President of the United States is [calling for] humanitarian aid and military support. You cannot bandage the wounds of a people being eradicated and imagine yourself on the moral high ground.
Someone will say, "Well, you know what? We've had ceasefires and there's always more attacks." That does not mean that calling for a ceasefire is not the right thing to do.
What I see from the Democratic Party is prioritizing a strategic political relationship over the lives of people who are being destroyed right now. And that, to me, is scary.
Before we wrap up, I wouldn't be doing my job if I didn't ask if you plan to run again for House District 100?
Technically that district that I'd be running for is 95 now, and [Rep. SJ] Howell's is 100. They swapped the names [during redistricting]. I don't know why. But I'll be running for my House district again.
There was pressure from folks to run for Congress; people who said, "You have a well-known name in the state. People across political spectrums recognize the importance of what you're fighting for. The iron is hot, now's the time to jump to higher office."
When I ran for office initially, I sat down with Bryce Bennett—Rep. Bryce Bennett at the time—and I said, "Is the legislature a room my voice can do good in?" And he said, "Not only can it, it's the most important room for you to be in right now."
And as I sat after the session, the question I asked myself, "Where's the room my voice can do the most good in right now?"
I believe right now the fight is in the state legislature, to set up an infrastructure in Montana that helps get good, progressive, sincere Dems elected. And years down the line, if I think there's a better room to be in, I'll go to that room. And that could be running for Congress or governor or whatever. And I'm not ruling those out. If I feel like a stay-at-home mom is the room to be in, I would do that.
I think I would do some really good work on the federal level. And I think, to speak candidly, if I ran, I'd win.
I believe at the end of the day that most of the folks in Montana are really kind. They have been kind to me, when I was growing up in Billings, to being out here in Missoula now.
I believe that if it feels like we've lost some of that in politics, that there's a path to get it back and that that path is worth fighting for.
This conversation has been edited for length and clarity.
Note: The original version of the introductory text to this interview contained a link to an interview I published earlier this year with right-wing commentator Aaron Flint. The context in which I cited the interview did not actually represent what he said at the time. I regret the error.
---
One more thing…
It was such a pleasure getting to chat with Missoula's own Stephanie Land about her brand-new memoir "Class," as well as the Top Hat's heyday, Jason Isbell, her friendship with Rep. Zephyr, writing about sex and much more for Montana Free Press.
You can read the interview here.
---
Thanks so much for being here. In the meantime, you can always reach me via email, the comment section below, or on the Elon Machine, @SavageLevenson.